M B Smiley High School

In Memory
Robert Cannady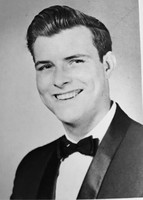 Robert Dalton Cannady went to be with the Lord on April 12, 2011. He was born on June 10, 1949 to parents, R.D. Cannady and Marjorie Ruth Simmons Cannady, in Houston, Texas.
Robert was a self-employed businessman in his younger years and later in life, after a disabling motorcycle accident, used his electronic skills to keep himself busy. Robert was a kind and wonderful man who loved his family dearly and was always making sure to assist with what they needed.
He is preceded in death by his father, and his wife, Linda. Left to cherish his memory is his mother, Marjorie Cannnady; sisters, Terri Carr and husband Guy, Lynda Woods and husband Tom; nephews, Jason Merchant and fiancé Ginny, Mike Merchant and wife JoDee and children Mikey and KaiLee; nieces, Angela Brown, Michelle Ussery and husband Thomas and children Taylor, Brian, Brent, Breanna, Kyra and Elijah, and Aimee Carr and fiancé Daniel Billstein and child Aidan. Robert was also excited to be awaiting the birth of three more additions to the family this summer.
A memorial service officiated by Reverend Dick Lintelman will be held on Sat., April 16, 2011 at 2 p.m. at Faith & Family Funeral Services Chapel in Batson,Texas
http://www.thevindicator.com/obituaries/article_8450e204-6782-11e0-8485-001cc4c002e0.html